i-SAFE Internet Life Skills Activities: Reproducible Projects on Learning to Safely Handle Life Online, Grades 9-12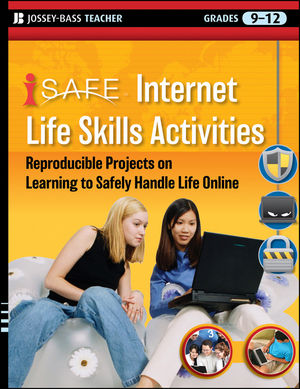 i-SAFE Internet Life Skills Activities: Reproducible Projects on Learning to Safely Handle Life Online, Grades 9-12
ISBN: 978-0-470-53950-7
Jul 2010, Jossey-Bass
160 pages
Product not available for purchase
Description
Easy-to-use guide to help teens and young adults develop their Internet skills while keeping safe
In today's world, such ordinary tasks as bill paying, shopping and applying for jobs are accomplished via the Internet. Developed by i-SAFE™, the leading nonprofit organization dedicated to Internet safety education, this important resource shows students in grades 9-12 (and their parents and teachers) the right way to accomplish everyday activities online, while maintaining personal safety and computer security.
Shows teens how to safely use the Internet for social networking, buying and selling, applying for college , and more
Clearly explains how to avoid dangerous, inappropriate, or unlawful online behavior
From i-SAFE™ the organization dedicated to Internet safety education
This must-have book is designed to empower youth and steer them towards safe and responsible Internet experiences.
About the Book.
About the Author.
Teacher's Guide.
Chapter 1: Taking Charge Online.
Computer Security.
Online Banking.
Online Research Skills.
Online Retail Shopping.
Chapter 2: Interacting Online.
Your Online Persona.
Online Social Networking.
Online Relationships.
Online Gaming.
Peer-to-Peer (P2P) Networking.
Chapter 3: Putting the Internet to Work for You.
Online Search Skills.
Job Hunting Online.
Money Management with Technology.
Preparing and Filing Income Taxes Online.
Chapter 4: Other Online Considerations.
Online Forms.
Online Communication Basics.
Working Wireless: Network Safety Considerations.
Public Wireless Access Considerations.
Chapter 5: Using the Internet to Move Forward.
What Do I Want to Be?
Further Schooling.
Online Education: A Newer Option.
Applications, Scholarships, Loans, Grants, and More.
Optional Chapter Quizzes.
"Go Online" Section Summaries.
Answer Key.
Index.