iMac For Dummies®, 7th Edition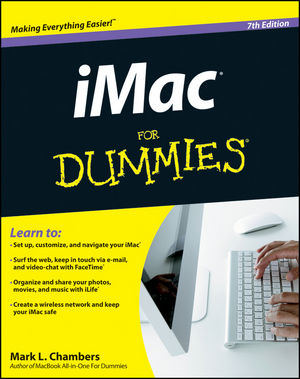 Description
The bestselling guide to the ultimate all-in-one computer—now updated and revised throughout!
If you're looking for speed, performance, and power, the iMac is the ultimate all-in-one computer. From its superior performance, powerful operating system, and amazing applications, the iMac is one awesome machine, and the fun, friendly, and approachable style of iMac For Dummies is an ideal way to get started with the basics. You'll learn the fundamentals of the iMac including setting up and customizing your iMac and the software that comes with it, importing files from your old computer, sending and receiving e-mail, video calling, and more.
Covers the latest iMac hardware, Mac OS X Lion, iCloud, and the Mac App Store
Shows you how to surf the web with Safari and keep in touch by e-mail and FaceTime video calling
Details how to find and download music, videos, TV shows, and more from the iTunes Store
Gets you up to speed with the newest versions of iLife and iWork
Walks you through storing and organizing digital photos, music, and other multimedia
Explains how iCloud keeps everything, from your music to your documents, in sync
Delves into creating a multi-user iMac and connecting to a wireless network
Reviews troubleshooting tips and tricks
Shows you how to automate mundane tasks
With iMac For Dummies, 7th Edition, you'll be able to proclaim, "iKnow" in no time!
Introduction 1
Part I: Know Your iMac 7
Chapter 1: Okay, This Machine Looks Really, Really Weird 9
Chapter 2: Life! Give My iMac Life! 25
Chapter 3: Introducing the Apple of Your iMac 35
Part II: Shaking Hands with Mac OS X 45
Chapter 4: Opening and Closing and Clicking and Such 47
Chapter 5: A Plethora of Powerful Fun 69
Chapter 6: A Nerd's Guide to System Preferences 85
Chapter 7: Searching amidst iMac Chaos 99
Part III: Connecting and Communicating 107
Chapter 8: Let's Go on Safari! 109
Chapter 9: Expanding Your Horizons with iCloud 127
Chapter 10: Hooking Up with Handy Helpers 131
Part IV: Living the iLife 143
Chapter 11: The Multimedia Joy of iTunes 145
Chapter 12: The Masterpiece That Is iPhoto 175
Chapter 13: Making Film History with iMovie 199
Chapter 14: iDVD — Your DVD Movie Factory 221
Chapter 15: Recording Your Hits with GarageBand 243
Chapter 16: Creating a Website with iWeb 265
Part V: Getting Productive with iWork and Other Tools 277
Chapter 17: Desktop Publishing with Pages 279
Chapter 18: Creating Spreadsheets with Numbers 291
Chapter 19: Building Presentations with Keynote 305
Chapter 20: Creating a Multiuser iMac 319
Chapter 21: Building (Or Joining) a Network 337
Part VI: The Necessary Evils: Troubleshooting, Upgrading, Maintaining 359
Chapter 22: It Just . . . Sits . . . There 361
Chapter 23: I Want to Add Stuff 375
Chapter 24: Tackling the Housekeeping 385
Chapter 25: Running Windows on Your iMac 399
Part VII: The Part of Tens 407
Chapter 26: Ten Ways to Speed Up Your iMac 409
Chapter 27: Ten Things to Avoid Like the Plague 415
Index 421
Bonus Chapter on the Companion Website at www.dummies.com/go/imacfd7e BC1
Bonus Chapter: Communicating with That Bluetooth Guy BC1
Bonus Chapter: Communicating with That Bluetooth Guy

Download
Updates
Please check back here for updates.