iPad For Dummies, Portable Edition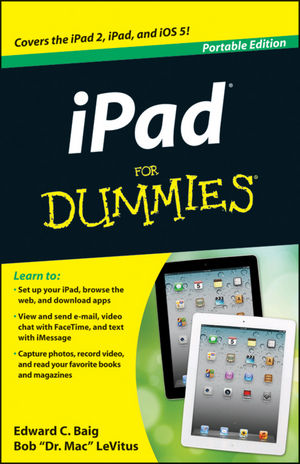 iPad For Dummies, Portable Edition
ISBN: 978-1-118-31705-1
Jan 2012
192 pages
Product not available for purchase
Description
Your e-mail, photos, music, books, and games — everything you need is just a touch away with iPad!
Part iPod touch, part MacBook, part e-Reader, and all amazing, the iPad combines the best of your favorite gadgets into one ultraportable touch device. From sending e-mail and surfing the web to taking pictures, watching and recording videos, playing games, downloading apps, and so much more, the fun begins right here with this friendly For Dummies guide
Magic touch — navigate the multitouch screen, use the onscreen keyboard, and e-mail and surf the web with just the touch of a finger

Picture perfect — turn your iPad into a digital picture frame, add cool effects to your photos, and make FaceTime video calls

Get rhythm — organize your music collection, listen to your favorite tunes, and create cool custom playlists

All those apps — download the latest apps, keep them up to date, and indulge your interests with games, e-books, and more
Open the book and find:
Steps for getting started with your iPad

Easy ways to organize your e-mail, calendar, and contacts

How to make a video call with FaceTime

Advice on using the iPad's HD video camera

How to increase productivity with folders and multitasking

Fast and easy shortcuts and helpful iPad hints

Tips for staying connected with Facebook and Twitter
Learn to:
Set up your iPad, use the multitouch interface, and get connected

Surf the web, listen to music, watch movies, and video chat with FaceTime

Utilize your iPad as an e-book reader, portable game console, or HD video camera
Introduction.
About This Book.
Conventions Used in This Book.
Icons Used in This Book.
Where to Go from Here.
Chapter 1: Getting to Know Your iPad.
Turning the iPad On and Off.
Locking the iPad.
Exploring the iPad's Big Picture.
Touring the iPad Exterior.
The iPad's Stupendous Seventeen Home Screen Icons.
Chapter 2: Mastering Multitouch.
Training Your Digits.
Navigating Beyond Home.
The Incredible, Intelligent, and Virtual Keyboard.
Multitasking.
Organizing Icons into Folders.
Printing.
Searching for Content.
Chapter 3: Getting Stuff to and from Your iPad.
Starting to Sync.
Disconnecting the iPad.
Synchronizing Your Data.
Synchronizing Your Media.
Chapter 4: Surfing and Sending: Internet and E-Mail.
Surfin' Dude.
I Can See Clearly Now.
Setting Up Your E-Mail.
Darling, You Send Me.
Working with Messages.
Chapter 5: Music, Movies, and Books.
Introducing the iPod inside Your iPad.
Check Out Your Library.
Taking Control of Your Tunes.
Finding Stuff to Watch.
Playing Video.
Chatting with a View: FaceTime.
Shooting Photos and Video.
Beginning the iBook Story.
Reading a Book.
Shopping for E-Books.
Chapter 6: Gotta Love Those Apps!
Tapping the Magic of Apps.
Using Your Computer to Find Apps.
Using Your iPad to Find Apps.
Working with Apps.
Socializing with Social Media Apps.
Chapter 7: Setting You Straight on Settings.
Viewing the Settings Screen.
Flying with Sky-High Settings.
Controlling Wi-Fi Connections.
Settings for Your Senses.
Chapter 8: Accessorizing Your iPad.
Adding a Case.
Wrapping Your iPad in Third-Party Cases.
Exploring Keyboard Alternatives.
Connecting a Camera.
Connecting to a TV or Projector.
Keeping a Spare Charger.
Listening and Talking with Headphones.
Listening with Speakers.
But Wait . . . There's More!
Chapter 9: Ten Hints, Tips, and Shortcuts.
Sliding for Accuracy.
Using the Autoapostrophe.
Viewing the iPad's Capacity.
Changing the Scrubber Speed.
Exploring Some Safari Tricks.
Sharing the Love.
Choosing a Safari Home Page.
Storing Files.
Making Phone Calls.
Snapping a Shot of the Screen.
Index.