iPad For Dummies: $1 Mini Book, Australian Edition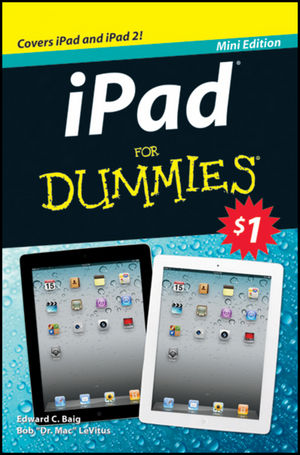 iPad For Dummies: $1 Mini Book, Australian Edition
ISBN: 978-1-118-14035-2
Aug 2011
64 pages
Product not available for purchase
Description
Your world is just a touch away with your iPad!
The iPad combines the best of your favorite gadgets into one amazing, ultraportable touch device. This handy guide helps you figure out all the basics — from sending e-mail and surfing the web to playing games, making FaceTime video calls, watching movies, taking photos, downloading cool apps, and more. Whatever you want your iPad to do, the fun begins right here.
Open the book and find:
Steps for getting started with your iPad

How to record HD video and capture great photos

Help downloading content from iTunes®, the App Store, and the iBookstore

How to connect with e-mail, texts, and social media

Ways to get from Point A to Point B with Maps
Introduction.
Part I: Introducing the iPad.
Touring the iPad Exterior.
Turning the iPad On and Off.
Starting to Sync.
Introducing the iPad Status Bar.
Home Sweet Home Screen.
Mastering Multitouch.
Part II: The iPad Online.
Going on Safari.
Getting the Mail Through.
Chatting with FaceTime.
Maps Are Where It's At.
Socializing with Social Media Apps.
Part III: The iPad at Play.
The Magic of the Apps.
Playing the iPod inside Your iPad.
Finding Stuff to Watch.
Playing Video.
Shooting Photos and Video.
Just Browsing: iBookstore.
Buying a Book from the iBookstore.
Reading a Book.