iPad Fully Loaded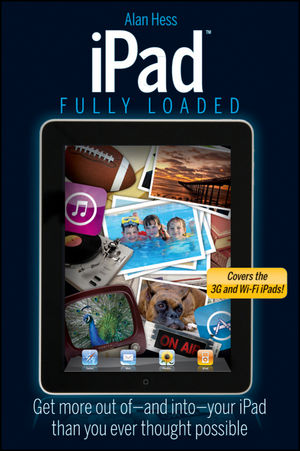 iPad Fully Loaded
ISBN: 978-1-118-07626-2
Mar 2011
304 pages
Product not available for purchase
Description
Alan knows—and he's telling! All about your iPad.
It's an iPod. It's an e-reader. It's an instant classic. And now you can discover all the secrets to this dazzling device, thanks to Alan Hess. You may think you already know your iPad inside and out, until Alan shows you how to write your own books, stream your iTunes, view comic book files, and transfer photos with Eye-Fi. He provides all the tips and techniques you need to get the absolute most out of your iPad. Figure you already get all things iPad? Don't count on it—until you read this book!
Browse through the iBooksStore and start speed e-reading

Catch all the news from traditional sources and news aggregator apps like Pulse and Flipboard

Get all your photos exactly where—and how—you want them to be

Create documents, crunch numbers, work on presentations—and iWork from the beach!

Access your files on the go with Dropbox and read just about any file with GoodReader
Get more out of—and into—your iPad than you ever thought possible
ABOUT THE AUTHOR.
INTRODUCTION.
PART 1: CONTENT BASICS.
Chapter 1: Content.
Chapter 2: iTunes.
Chapter 3: The iTunes Store.
PART 2: CONTENT CONSUMPTION.
Chapter 4: Electronic Reader.
Chapter 5: Movies.
Chapter 6: Television.
Chapter 7: Comic Books.
Chapter 8: News.
Chapter 9: Music.
Chapter 10: Photography.
PART 3: INTERNET CONTENT.
Chapter 11: E-mail.
Chapter 12: The Web.
PART 4: OFFICE CONTENT.
Chapter 13: Calendars and Contacts.
Chapter 14: Notes and Lists.
Chapter 15: Word Processing.
Chapter 16: Number Crunching.
Chapter 17: Presentations.
Chapter 18: Databases.
APPENDICES.
Appendix I: Accessories.
Appendix II: iOS – The Apple Operating System.
APPS LIST.
INDEX.