iPhone 4 Portable Genius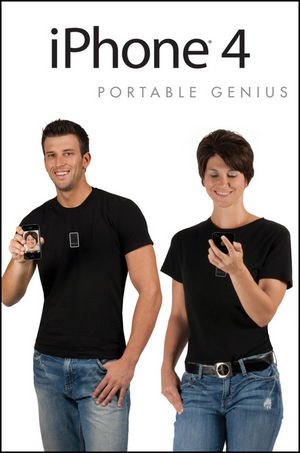 iPhone 4 Portable Genius
ISBN: 978-0-470-93224-7
Jul 2010
336 pages
Product not available for purchase
Description
A handy, quick-access guide to getting the most out of the iPhone 4
If you love all the great stuff that makes up the Apple digital lifestyle, you no doubt consider your iPhone 4 to be indispensable. The newest edition of iPhone Portable Genius is packed with the information you need to make this wonderful device even better. You'll find great iPhone tips at your fingertips—things like the latest hot app from the App Store, novel ways to control calls, and more—and they're all designed to make your life easier, save you time, and help you avoid hassle. Best of all, this book features full-color screenshots, so it's easy to navigate, and it doesn't skip any of the essentials.
Includes savvy advice and plenty of no-nonsense content in a hip way that is easy to access
Covers key tools, topics, and shortcuts
Features Genius icons throughout the book—smart or innovative ways to handle tasks and save yourself time
Get better acquainted with your iPhone 4 in a fun way—as if your friends were showing you what to do—with iPhone 4 Portable Genius.
Acknowledgments.
Introduction.
Chapter 1: How Do I Configure My iPhone?
Chapter 2: How Do I Connect My iPhone to a Network?
Chapter 3: How Can I Get More Out of the Phone App?
Chapter 4: How Can I Make the Most of Web Surfing with My iPhone?
Chapter 5: How Do I Maximize E-mail on My iPhone?
Chapter 6: How Can I Take Control of Syncing My iPhone?
Chapter 7: How Can I Get More Out of My iPhone's Audio Features?
Chapter 8: How Do I Max Out My iPhone's Photo and Video Features?
Chapter 9: Can I Use My iPhone to Manage Contacts and Appointments?
Chapter 10: How Do I Use My iPhone to Navigate My World?
Chapter 11: How Do I Manage My eBook Library on My iPhone?
Chapter 12: How Do I Keep My Life In Sync with MobileMe?
Chapter 13: How Do I Fix My iPhone?
Glossary.
Index.