iPhone 6s Portable Genius: Covers iOS9 and all models of iPhone 6s, 6, and iPhone 5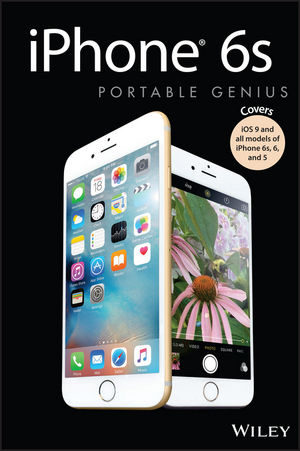 iPhone 6s Portable Genius: Covers iOS9 and all models of iPhone 6s, 6, and iPhone 5
ISBN: 978-1-119-17394-6
Oct 2015
352 pages
Description
Take a bite out of all your iPhone has to offer
As easy and intuitive as the iPhone is, it's more complex than most of us realize—and what's better than learning all the insider tips and tricks with the iPhone Portable Genius, 3rd Edition? Whether you're just starting out with your first iPhone or upgrading to a newer model, this full-color guide will have you tapping, swiping, and typing like an Apple genius in no time. You'll find essential information about iOS, Siri, iCloud, and how to use your phone to manage, organize, and navigate your life.
Written in clear, no-nonsense language, iPhone Portable Genius, 3rd Edition offers expert tips and tricks that will save you time and hassles—and help you unlock all your device has to offer. Designed for the visual learner, it provides plenty of full-color screenshots that illustrate exactly what you'll see and do on your iPhone. Plus, 'Genius Icons' throughout the text highlight smarter, more innovative ways to do what you need to do. So what are you waiting for? Everything you need to truly make the most of your iPhone is here.
Connect to a network, configure your settings, and work with iCloud
Max out the media features, surf the Web, and check your e-mail
Manage your contacts, appointments, e-books, and libraries
Sync your apps, photos, music, and more
Preface
Introduction
Chapter1 How Do I Start Using My iPhone?
Chapter2 How Do I Configure My iPhone?
Chapter3 How Do I Connect My iPhone to a Network?
Chapter4 How Can I Get More Out of the Phone App?
Chapter5 How Can I Make the Most of iPhone Web Surfing?
Chapter6 How Do I Maximize iPhone Email?
Chapter7 How Do I Synchronize My iPhone?
Chapter8 How Can I Get More Out of Audio Features on My iPhone?
Chapter9 How Do I Max Out My iPhone's Photo and Video Features?
Chapter10 Can I Use My iPhone to Manage Contacts and Appointments?
Chapter11 How Do I Use My iPhone to Navigate My World?
Chapter12 How Do I Manage My Ebook Library?
Chapter13 How Do I Keep My Life in Sync with iCloud?
Chapter14 How Do I Fix My iPhone?
Glossary
index