iPhone and iPad Game Development For Dummies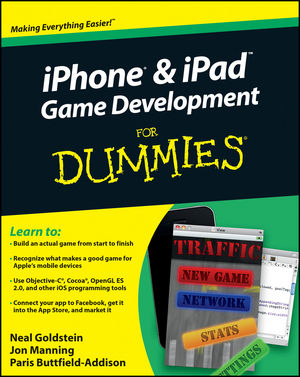 iPhone and iPad Game Development For Dummies
ISBN: 978-0-470-59910-5
Nov 2010
508 pages
Product not available for purchase
Description
Here's the scoop on building and marketing great games for the iPhone and iPad!
The iPhone and iPad are the hottest techno-gadgets on the market today, and games for it are even hotter. To help you cash in on the trend, this book shows what it takes to create a good iPhone and iPad game and how to get it into the App Store.
Neal Goldstein, leader of an iPhone app startup company, and his co-authors show you how to build a game that will sell, include quality graphics, market your game through the App Store, and more. Whether you're a programming novice or an experienced developer looking to enter the game market, here's how to get going.
Games for the iPhone are among the hottest apps in Apple's App Store
Learn to build two game applications – from beginning to end
Written by successful mobile app developers, this guide begins with how to get started, including downloading the SDK and filling your toolbox
Covers programming with Objective-C and Cocoa, what makes a good game, graphics, and creating good mobile apps
Explains how to market your game through the App Store
iPhone and iPad Game Development For Dummies can start you on a fun hobby or a lucrative career.
Note: Apple's iOS SDK tools are only accessible on Intel-powered Mac and MacBook devices.
Introduction.
Part I: Getting Started.
Chapter 1: Building Great iOS Games.
Chapter 2: Becoming an iPhone Developer.
Chapter 3: Your First Date with the SDK.
Part II: Traffic, The Game.
Chapter 4: How iOS Games Work.
Chapter 5: Building the User Interface.
Chapter 6: Making Objects Appear and Move.
Chapter 7: The Life Cycle of an iOS Game.
Chapter 8: Creating the Game Architecture.
Chapter 9: Creating the Game Controller.
Chapter 10: Using the Debugger.
Chapter 11: Keeping Score in Your Game.
Chapter 12: Storing User Preferences.
Chapter 13: Death, Taxes, and iOS Provisioning.
Chapter 14: Giving Your Game Music and Sound.
Part III: The Social Aspects.
Chapter 15: Building Multiplayer Games with Game Kit.
Chapter 16: Game, Meet Facebook.
Chapter 17: External Displays.
Chapter 18: iAd.
Part IV: The iPad.
Chapter 19: The World of the iPad.
Chapter 20: Adding Multiple Lanes for the iPad.
Chapter 21: Using Gesture Recognizers.
Chapter 22: Setting Up OpenGL.
Chapter 23: Drawing with OpenGL.
Chapter 24: Texturing with OpenGL.
Chapter 25: Kicking Up Your Game a Notch.
Part V: The Part of Tens.
Chapter 26: Ten Differences between the iPhone and the iPad.
Chapter 27: Ten Ways to Market Your Game.
Chapter 28: Ten Insanely Great Games.
Index.