iPhoto 11 Portable Genius, 2nd Edition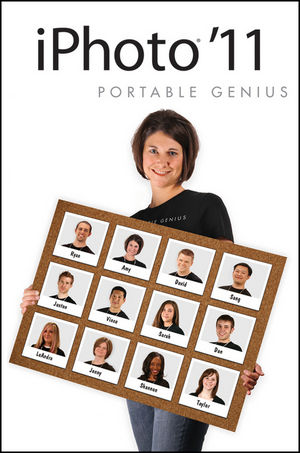 iPhoto 11 Portable Genius, 2nd Edition
ISBN: 978-1-118-05845-9
Jan 2011
352 pages
Product not available for purchase
Description
What serious fans need to take full advantage of iPhoto
Part of the incredibly popular iLife suite that comes loaded on every Mac, iPhoto is the standard for digital photo management and editing programs. This smart and clever guide gives iPhoto users the inside track on the key skills, tools and shortcuts to accomplish every task iPhoto can do, including some hidden gems that most users miss. It helps maximize the key features of the newest version so Mac users can get the most from their systems.
iPhoto is part of the iLife digital lifestyle suite that is pre-installed on every new Mac; this guide helps Mac users take full advantage of its features
Packed with facts, secrets, tips, and techniques to help you manage and edit your digital photos more effectively
Includes key information that can save you time and hassle and uncovers facts you might not discover just by using the software
Authoritative but down-to-earth, this small book is big on expert advice that helps you discover and make the most of every feature of iPhoto.
Acknowledgments.
Introduction.
chapter 1 How Do I Get Started with iPhoto?
chapter 2 How Can Events Help Me with My Photos?
chapter 3 How Can I Work with My Photos Individually?
chapter 4 How Can Faces Help Me Organize and View My Photos?
chapter 5 How Can I Use Places to Organize and View My Photos?
chapter 6 Can iPhoto Help Me Keep My Photos Organized?
chapter 7 How Else Can I Find My Photos?
chapter 8 What Can I Do to Improve My Photos?
chapter 9 How Can I Use MobileMe to Share Photos?
chapter 10 How Can I Use iWeb to Share Photos?
chapter 11 How Can I Use Facebook to Share Photos?
chapter 12 How Can I Use Flickr to Share Photos?
chapter 13 What Can I Do with the Slideshow Feature?
chapter 14 How Can I Create Photo Books?
chapter 15 How Can I Create Cards?
chapter 16 How Can I Create Calendars?
chapter 17 What Else Can I Do with Photos?
chapter 18 What Can I Do to Protect My Photos?
 Index.