iPod Fully Loaded: If You've Got It, You Can iPod It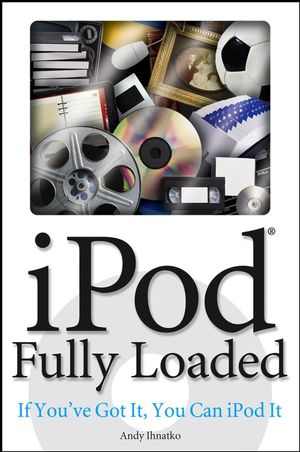 iPod Fully Loaded: If You've Got It, You Can iPod It
ISBN: 978-0-470-04950-1
Oct 2006
312 pages
Product not available for purchase
Description
Let Mac guru Andy Ihnatko show you how to put everything but the kitchen sink on your iPod—from old LPs, radio programs, television shows, and movies to spreadsheets, presentations, and PC rescue files. You'll quickly discover that music is only a small part of the picture as you learn how to record TV shows for an iPod, record radio broadcasts and automatically convert them into podcasts, convert Web pages into formats that can be read or listened to on an iPod, and even translate Microsoft Word, Excel, or PowerPoint documents for the iPod screen. Whether you're a PC or a Mac user, or have a past, present, or even future iPod, Inhantko advice works perfectly.
Introduction.
Part I: The Real World According to iPod.
Chapter 1: iPod Startup.
Chapter 2: Ripping CDs.
Chapter 3: LPs, Tapes, and Whatnot.
Chapter 4: Ripping DVDs.
Chapter 5: Videotape, DVRs, and Other Video.
Chapter 6: Radio.
Chapter 7: Glorious Television.
Part II: Where iPod Meets the Internet.
Chapter 8: Podcasts.
Chapter 9: Audio Streams.
Chapter 10: Internet Videos.
Chapter 11: Download Free Music (and Get Away with It).
Chapter 12: Take the Web Page and Run.
Part III: iPod Goes to the Office.
Chapter 13: Contacts, Appointments, and To-Dos.
Chapter 15: Documents and Books.
Chapter 16: E-Mail.
Chapter 17: Spreadsheets and Databases.
Chapter 18: Presentations.
Chapter 19: Travel Companionage.
Chapter 20: Bleeding the Fun out of Your iPod.
Appendixes.
Appendix A: Automating Processes in Mac OS X.
Appendix B: Text to Speech.
Index.
Bonus Material.
Appendix C: The Super Skim.
"If you love your iPod, you will love this book." (geekanoids.co.uk, January 2007)