iPod and iTunes For Dummies, 4th Edition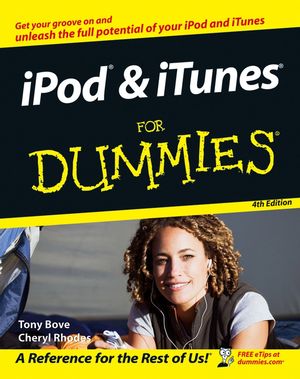 iPod and iTunes For Dummies, 4th Edition
ISBN: 978-0-470-04894-8
Oct 2006
432 pages
Product not available for purchase
Description
Make the most of iPods and iTunes with this updated guide to the latest models and enhancements. You'll learn about everything from buying music and videos, importing music, and burning CDs to setting up play lists, transferring and viewing photos, adding podcasts, maintaining battery life, and synchronizing information. Order your copy today!
Introduction.
Part I: Setting Up and Acquiring Media Content.
Chapter 1: Firing Up Your iPod.
Chapter 2: Setting Up iTunes and Your iPod.
Chapter 3: Getting Started with iTunes.
Chapter 4: Shopping at the iTunes Music Store.
Chapter 5: Bringing Content into iTunes.
Chapter 6: Playing Content in iTunes.
Chapter 7: Sharing Content Legally.
Part II: Managing Your Media Content.
Chapter 8: Searching, Browsing, and Sorting in iTunes.
Chapter 9: Adding and Editing Information in iTunes.
Chapter 10: Organizing iTunes Content with Playlists.
Chapter 11: Managing Photos and Videos.
Chapter 12: Updating Your iPod with iTunes.
Chapter 13: Gimme Shelter for My Media.
Chapter 14: Baking Your Own Discs with Printed Inserts.
Part III: Playing Your iPod.
Chapter 15: Playing iPod Content.
Chapter 16: Getting Wired for Playback.
Chapter 17: Fine-Tuning the Sound.
Part IV: Using Advanced Techniques.
Chapter 18: Decoding Audio Encoding.
Chapter 19: Changing Encoders and Encoder Settings.
Chapter 20: Enhancing Your iTunes Library.
Part V: Have iPod, Will Travel.
Chapter 21: Listening While on the Move.
Chapter 22: Sleeping with Your iPod.
Chapter 23: Using the iPod as a Hard Drive.
Chapter 24: Getting Personal.
Chapter 25: Synchronizing Information with Your iPod.
Chapter 26: Updating and Troubleshooting.
Part VI: The Part of Tens.
Chapter 27: Ten iPod Problems and Solutions.
Chapter 28: Eleven Tips for the Equalizer.
Index.
Bonus Chapter 1: Putting a Dime in the Musicmatch Jukebox.
Bonus Chapter 2: Managing the Musicmatch Jukebox Library.
Bonus Chapter 3: Advanced Musicmatch Techniques.
Bonus Chapter 4: Web Sources for More.
iPod Information.
This beginner's guide in the usual "Dummies" format shows how to set up, acquire, and manage media content; how to play with the iPod, hook it up to other components, and take it on the road; how to use advanced techniques; and how to troubleshoot common problems. Online bonus chapters (available at http://www.dummies.com/go/ipod4e/) cover MusicMatch Jukebox and online resources. Clear, with just enough background information; recommended for all libraries. (Library Journal, January 15, 2007)
Download Bonus Chapter 1: Putting a Dime in the Musicmatch Jukebox
Download Bonus Chapter 1: Putting a Dime in the Musicmatch Jukebox in PDF format.
Download
Download Bonus Chapter 2: Managing the Musicmatch Jukebox Library
Download Bonus Chapter 2: Managing the Musicmatch Jukebox Library in PDF format.
Download
Download Bonus Chapter 3: Advanced Musicmatch Techniques
Download Bonus Chapter 3: Advanced Musicmatch Techniques in PDF format.
Download
Download Bonus Chapter 4: Web Sources for More iPod Information
Download Bonus Chapter 4: Web Sources for More iPod Information in PDF format.
Download