jQuery For Dummies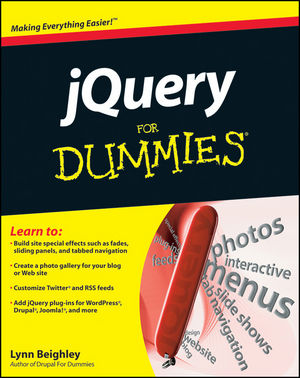 Description
Learn how jQuery can make your Web page or blog stand out from the crowd!
jQuery is free, open source software that allows you to extend and customize Joomla!, Drupal, AJAX, and WordPress via plug-ins. Assuming no previous programming experience, Lynn Beighley takes you through the basics of jQuery from the very start.
You'll discover how the jQuery library separates itself from other JavaScript libraries through its ease of use, compactness, and friendliness if you're a beginner programmer.
Written in the easy-to-understand style of the For Dummies brand, this book demonstrates how you can add unique and exciting interactivity to a Web site or WordPress blog, including photo browsers, menus, tab-based navigation, sliding sidepanels, slideshows, transition effects, fade effects, Twitter feeds, and much, much more!
Walks you through the capabilities of jQuery, the number one open source JavaScript library that enables you to provide interactivity on a Web site or blog
Helps you understand DOM (Document Object Model) scripting, applying CSS classes via JQuery, and adding in special effects and jQuery plug-ins to your site
Shows you how to create dazzling special effects on your site, including fades, slide shows, sliding panels, tabbed navigation, and more
Explains how to add customized Twitter feeds, RSS feeds to aggregate content on your site, or add a photo browser to a site or blog
Introduces ways to create jQuery plug-ins for WordPress, Drupal, and more
If you have queries about how you can make your blog or Web site stand apart from the crowd, jQuery For Dummies is the book for you!
Introduction.
Part I: Getting Started with jQuery.
Chapter 1: Getting Up and Running with jQuery.
Chapter 2: Accessing HTML Elements.
Chapter 3: Selecting HTML Elements, Attributes, and Positions.
Chapter 4: Managing Events.
Part II: Affecting Elements with Effects.
Chapter 5: Playing Hide-and-Seek with Web Page Elements.
Chapter 6: Sliding and Fading Web Page Elements.
Chapter 7: Animating Web Page Elements.
Part III: Manipulating Your Web Page.
Chapter 8: Making Web Page Content Dynamic.
Chapter 9: Replacing, Removing, and Copying Web Page Elements.
Part IV: Using Plug-ins and Widgets.
Chapter 10: Understanding Plug-ins.
Chapter 11: Playing with Image Effects.
Chapter 12: Jazzing Up Forms.
Chapter 13: Toying with Page Layout.
Chapter 14: Incorporating a User Interface.
Part V: Building AJAX Applications.
Chapter 15: Understanding How AJAX Works with jQuery.
Chapter 16: Using AJAX Plug-ins.
Part VI: Integrating jQuery with Content Management Systems.
Chapter 17: Cool Image Effects with jQuery and Drupal.
Chapter 18: Integrating jQuery and Joomla!
Chapter 19: Building Better Blogs with jQuery and WordPress.
Part VII: The Part of Tens.
Chapter 20: Ten Don't-Miss Plug-ins.
Chapter 21: Ten Design and Code Tricks.
Chapter 22: Ten jQuery Resources.
Index.