mRNA Metabolism & Post-Transcriptional Gene Regulation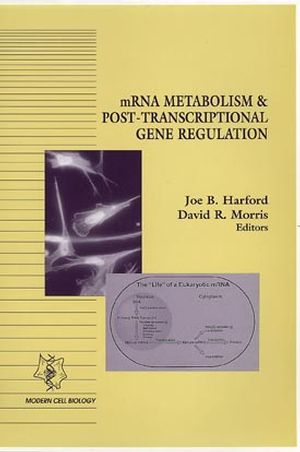 mRNA Metabolism & Post-Transcriptional Gene Regulation
ISBN: 978-0-471-14206-5
Mar 1997
354 pages
Description
mRNA METABOLISM & POST-TRANSCRIPTIONAL GENE REGULATION

Edited by Joe B. Harford and David R. Morris

Gene expression is a process that begins with the transcription of DNA to an RNA messenger (mRNA), which is then translated into a protein. Historically, attention has been focused on the regulation of RNA synthesis (transcription); however, there is a growing recognition of and appreciation for the importance of the many regulatory mechanisms that take place after RNA synthesis has been completed.

mRNA Metabolism and Post-Transcriptional Gene Regulation is the first comprehensive overview of the various modes of gene regulation that exist post-transcriptionally. Collecting studies by some of the top researchers in the field, this volume provides both an up-to-date review of the complex "life" of an mRNA molecule and an introduction to current work on the diversity of mechanisms of post-transcriptional reactions.

Topics covered include:
* RNA structure
* Mammalian RNA editing
* RNA export from the nucleus
* The fundamentals of translation initiation
* Control of mRNA decay in plants
* mRNA metabolism and cancer
* Control of mRNA stability during herpes simplex virus infection
* Regulation of mRNA expression in HIV-1 and other complex retroviruses
* Nucleases
* RNA localization


A timely contribution to the understanding of genetic regulatory mechanisms, mRNA Metabolism and Post-Transcriptional Gene Regulation provides a basis from which potential therapeutic strategies may be developed. This book will be of vital interest to cell and molecular biologists at all levels, from graduate students to senior investigators, clinical researchers, and professionals in the pharmaceutical and biotechnology industries.
Partial table of contents:

RNA Structure (E. Puglisi & J. Puglisi).

Transcription and Transcriptional Control: An Overview (I. Olave, et al.).

Constitutive and Alternative mRNA Splicing (S. Bernstein & D. Hodges).

mRNA Polyadenylation: Functional Implications (E. Baker).

RNA Export from the Nucleus (L. Maquat).

The Intracellular mRNA Sorting System: Postal Codes, Zip Codes, Mail Bags and Mail Boxes (O. Steward & R. Singer).

The Fundamentals of Translation Initiation (H. Huang & T. Donahue).

Mechanisms of mRNA Turnover in Eukaryotic Cells (S. Tharun & R. Parker).

Control of mRNA Decay in Plants (A. van Hoof & P. Green).

mRNA Metabolism and Cancer (M. Korth & M. Katze).

Translational Regulation in Animal Virus-Infected Cells (R. Schneider).

RNA Decay by the Interferon-Regulated 2-5A System as a Host Defense Against Viruses (R. Silverman & N. Cirino).

Control of mRNA Stability During Herpes Simplex Virus Infection (G. Read).

Regulation of mRNA Expression in HIV-1 and Other Retroviruses (B. Felber).

Index.