Audel Welding Pocket Reference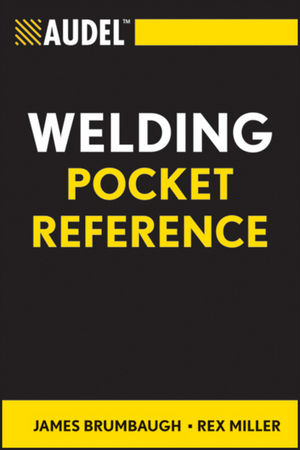 Audel Welding Pocket Reference
ISBN: 978-0-470-11704-0 March 2007 444 Pages
Description
Featuring updated charts dealing with the most common situations welding workers face on the job , this comprehensive, pocket-sized reference is based on recommendations from working professionals and covers welding symbols and definitions, types of joints and welds, typical welding station configurations, oxygen cylinders, arc-welding charts, U.S metric measures, and more.
Table of contents
Acknowledgments.
Preface.
1. Welding and Cutting Safety.
2. Oxyacetylene Welding.
3. Oxyacetylene Cutting.
4. Shielded Metal Are Welding.
5. Arc Welding and Cutting.
6. Brazing and Braze Welding.
7. Soldering.
8. Identifying Metals.
9. Cast Iron.
10. Wrought Iron.
11. Carbon Steels.
12. Alloy Steels.
13. Reactive and Refractory Metals.
14. Galvanized Metals.
15. Soft Metals Welding.
16. Magnesium and Magnesium Alloys.
17. Lead, Tin and Zinc.
18. Hard Facing and Tool and Die Steels.
19. Types of Joints.
20. Welding Positions.
21. Types of Welds.
22. Weld Terminology.
23. Welding Symbols.
24. Tips for Producing Good Welds.
Appendix A: SMAW Carbon Steel Electrodes.
Appendix B: SMAW Stainless Steel Electrodes
Appendix C: SMAW Aluminum Electrodes.
Appendix D: Conversion Tables.