Occupational and Residential Exposure Assessment for Pesticides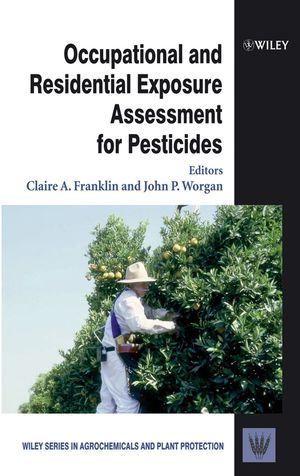 Occupational and Residential Exposure Assessment for Pesticides
ISBN: 978-0-471-48989-4 March 2005 440 Pages
Description
This timely publication concentrates on the exposure to pesticides by agricultural workers and residential users of pesticides through inhalation and physical contact.
The book discusses more recently discovered risks such as pesticides on indoor carpets and includes new trends in data interpretation.
Occupational & Residential Exposure Assessment for Pesticides complements the other title on pesticide exposure in the series - Pesticide Residues in Drinking Water, by Hamilton/Crossley and is a must for all professionals in the Pesticide Industry as well as academics.
Table of contents
Contributors.
Series Preface.
Preface.
Acknowledgements.
Introduction and Overview (Claire A. Franklin and John P. Worgan).
Section One: Exposure Assessment Methodologies.
1. Assessment of Exposure for Pesticide Handlers in Agricultural, Residential and Institutional Environments (Richard A. Fenske and Edgar W. Day, Jr.).
2. Development of Risk-Based Restricted Entry Intervals (Gary K. Whitmyre, John H. Ross, Michael E. Ginevan and Delmont Eberhart).
3. Residential Post-Application Pesticide Exposure Monitoring (Robert G. Lewis).
4. Residential (Non-Dietary) Post-Application Exposure Assessment (Jeffrey Driver, John H. Ross, Muhilan Pandian, Jeff Evans and Curt Lunchick).
Section Two: Databases and Models.
5. Generic Operator Exposure Databases (Joop J. van Hemmen and Katinka E. van der Jagt).
6. Predictive Residential Models (Yoshihide Matoba and Mark P. van Veen).
Section Three: Epidemiology.
7. Exposure Assessment for Pesticides in Epidemiological Studies (Dick Heederik and Kay Teschke).
Section Four: Advances in Data Interpretation.
8. Probabilistic Approaches to Aggregate and Cumulative Risk Assessment (Robert L. Sielken, Jr.).
9. Dermal Absorption of Pesticides (Betty C. Hakkert, J.J.M. (Han) van de Sandt, Jos G.M. Bessems and Cees de Heer).
10. Occupational and Residential Exposure Assessment for Pesticides – Towards a Harmonized Regulatory Approach (Christine A. Norman).
Guidelines Bibliography.
Glossary.
Index.
Reviews
"…will be useful to readers who need to understand exposure science and…to conduct pesticide (and other chemical) risk assessment…can also be used as a textbook…" (
E-STREAMS
, September 2006)
"Before writing this review, I lent my copy of the book to a few close colleagues, some of whom work specifically in the field of operator risk assessment. Most of them ordered their own copies straight away - I think this speaks for itself." (BTS Newsletter, Summer 200
"...what impresses me about this publication is the quality and eminence of the authors and the detail of knowledge that they impart..." (Health & Safety at Work, 1st October 2005)