Globalization, Poverty and Inequality: Between a Rock and a Hard Place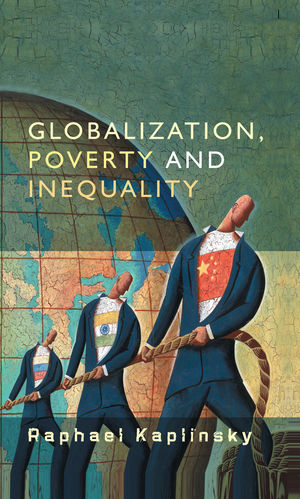 Globalization, Poverty and Inequality: Between a Rock and a Hard Place
ISBN: 978-0-745-63584-2 May 2013 Polity 304 Pages
Description
Globalization is characterised by persistent poverty and growing inequality. Conventional wisdom has it that this global poverty is residual – as globalization deepens, the poor will be lifted out of destitution. The policies of the World Bank, the IMF and the WTO echo this belief and push developing countries ever deeper into the global economy.
Globalization, Poverty and Inequality provides an alternative viewpoint. It argues that for many – particularly for those living in Latin America, Asia and Central Europe – poverty and globalization are relational. It is the very workings of the global system which condemn many to poverty. In particular the mobility of investment, and the large pool of increasingly skilled workers in China and other parts of Asia, are driving down global wages.
This poses challenges for policy makers in firms and countries throughout the world. It also challenges the very sustainability of globalisation itself. Are we about to witness the implosion of globalisation, as occurred between 1913 and 1950?
Using a variety of theoretical frameworks and drawing on a vast amount of original research, this book will be an invaluable resource for all students of globalization and its effects.
Table of contents
List of Figures vi
List of Tables x
A Guide to the Reader xii
Acknowledgements xiv
Part 1 Setting the Scene 1
1 Global Dynamics 3
2 Globalization and Poverty 26
Part II Gaining from Globalization 53
3 Getting it Right: Generating and Appropriating Rents 55
4 Managing Innovation and Connecting to Final Markets 86
5 The Global Dispersion of Production – Three Key Sectors 122
Part III Losing from Globalization 161
6 How Does it All Add Up? Caught Between a Rock and a Hard Place 163
7 Does it All Add Up? 196
8 So What? 232
Notes 258
References 265
Index 276
Reviews
"This book is a significant contribution to literature on globalisation and to the theory of global value chains. Clearly written and data rich, it presents compelling evidence that globalisation itself - by intensifying competition between low wage producers - is perpetuating poverty and amplifying inequality."
Political Studies Review

"This book is a useful addition to the growing literature on globalisation. It is well-balanced, well-researched and relatively jargon-free."

Development Policy Review

"Contains much new material and results of original research which should enable the reader to rise above the simplicities of 'globalization good' and 'globalization bad'."

Sir Hans Singer

"Highly readable and informative and challenges many of our assumptions about how industrialization and globalization works and how we might manage the process more effectively and equitably. It ought to be on the 'required reading' list for any courses which deal with the challenge of managing technological and industrial change"

John Bessant

"Uncovers the perils as well as the promise of globalization in an unvarnished look at winners, losers, and the new rules of the game in the global economy."

Gary Gereffi

"Kaplinsky's book provides a powerful and insightful vision of the opportunities and threats of globalization. His view of today's complex global economy examines the aggregate picture relating it to the historical context and with constant reference to specific cases that exemplify and deepen the understanding of the various processes at play.

His own considered view is that many economies in Latin America and Africa, and many people in the advanced industrial economies, are likely to be clear losers in a globalizing economy. Yet the analysis is rich enough to feed both sides of the necessary debate on whether globalization could become a positive-sum game for both advanced and developing countries."

Carlota Perez, Universities of Cambridge and Sussex

"This book is a rich contribution to the growing body of critical literature on globalisation."

The Hindu, Chennai, India
Features


Groundbreaking argument that poverty is relational to globalization, not just residual.

Focus on the relationship between globalization and poverty in Latin America, Asia and Central Europe.

Illustrated with a wealth of statistical information, easily viewed in tables and graphs.

Examines the policy-making implications of poverty for globalization.

Essential reading for all students of the global economy.