Motivation from Within: Approaches for Encouraging Faculty and Students to Excel: New Directions for Teaching and Learning, Number 78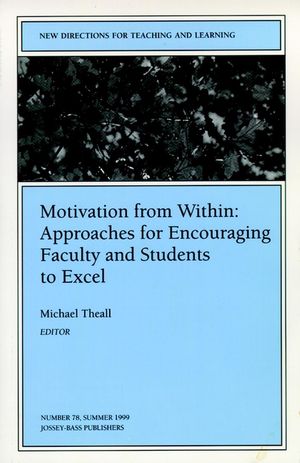 Motivation from Within: Approaches for Encouraging Faculty and Students to Excel: New Directions for Teaching and Learning, Number 78
ISBN: 978-0-787-94875-7 June 1999 Jossey-Bass 116 Pages
Description
Motivation is not something one "does to" someone else--good motivational practice requires that we engage others in a common quest. Emphasizing the concept of intrinsic motivation, this volume provides useful guidelines for teachers, learners, and administrators who wish to maximize their own performance and help others do the same. The authors examine how students' cultural backgrounds and beliefs about knowledge affect their motivation to learn, and apply the latest motivational theory to to the instructional process and the university community. They also explore what motivates faculty to strive for teaching excellence and institutional improvement, discussing what institutions can do to support faculty in these efforts.
This is the 78th issue of the quarterly journal New Directiond for Teaching and Learning.
Table of contents
MOTIVATION AND DIVERSITY.
Motivation and Diversity: A Framework for Teaching.
Student Motivation and Epistemological Beliefs (Michael B. Paulsen & Kenneth A. Feldman).
Motivation for Higher-Order Learning (Janet G. Donald).
MOTIVATION AND METHODS.
Using the ARCS Motivational Process in Computer-Based Instruction and Distance Education (John M. Keller).
CORE Elements of Student Motivation in Problem-Based Learning (Marjorie M. MacKinnon).
The Motivational Benefits of Cooperative Learning (Theodore Panitz).
MOTIVATION AND THE INSTITUTION.
Faculty Motivation: The Role of Supportive Teaching Culture (Kenneth A. Feldman & Michael B. Paulsen).
Motivation in Interdisciplinary Programs (Edward B. Nuhfer).
Institutional Improvement and Motivated Faculty: A Case Study (Donald W. Farmer).
CONCLUSION.
What Have We Learned? A Synthesis and Some Guidelines for Effective Motivation in Higher Education (Michael Theall & Jennifer Franklin).