The Year in Human and Medical Genetics: Inborn Errors of Immunity II, Volume 1242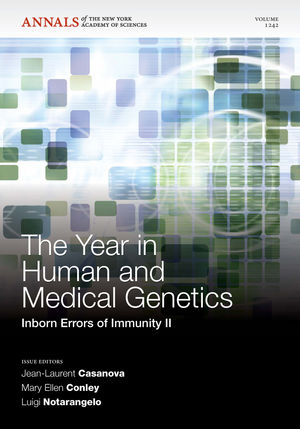 The Year in Human and Medical Genetics: Inborn Errors of Immunity II, Volume 1242
ISBN: 978-1-573-31851-8 January 2012 Wiley-Blackwell 208 Pages
Description
The genetic dissection of human primary immunodeficiency is expanding at full speed, in at least two directions. Some investigators pursue the dissection of well-known clinical phenotypes, for which the count of genetic etiologies seems to be endless, whereas others begin the search for inborn errors underlying new phenotypes, infectious and otherwise. The field of primary immunodeficiency is also expanding in other ways, with new therapeutic approaches, and with the care of patients in regions of the world where these diseases were unheard of less than a decade ago. The volume provides an overview of the field of medical genetics and its progress in 2011.
This volume focuses on new developments in "primary immunodeficiencies" (PIDs), insights into PID pathophysiology, and PIDs in India and the Middle East.Volume I opens with a dialog between the volume editors on the definition of PIDs; additional papers in this volume focus on PIDs in Latin America, Eastern and Central Europe, North Africa, Turkey, Asia, Iran, and the South Pacific.
NOTE: Annals volumes are available for sale as individual books or as a journal. For information on institutional journal subscriptions, please visit http://ordering.onlinelibrary.wiley.com/subs.asp?ref=1749-6632&doi=10.1111/(ISSN)1749-6632.
ACADEMY MEMBERS: Please contact the New York Academy of Sciences directly to place your order (www.nyas.org). Members of the New York Academy of Science receive full-text access to Annals online and discounts on print volumes. Please visit http://www.nyas.org/MemberCenter/Join.aspx for more information about becoming a member.